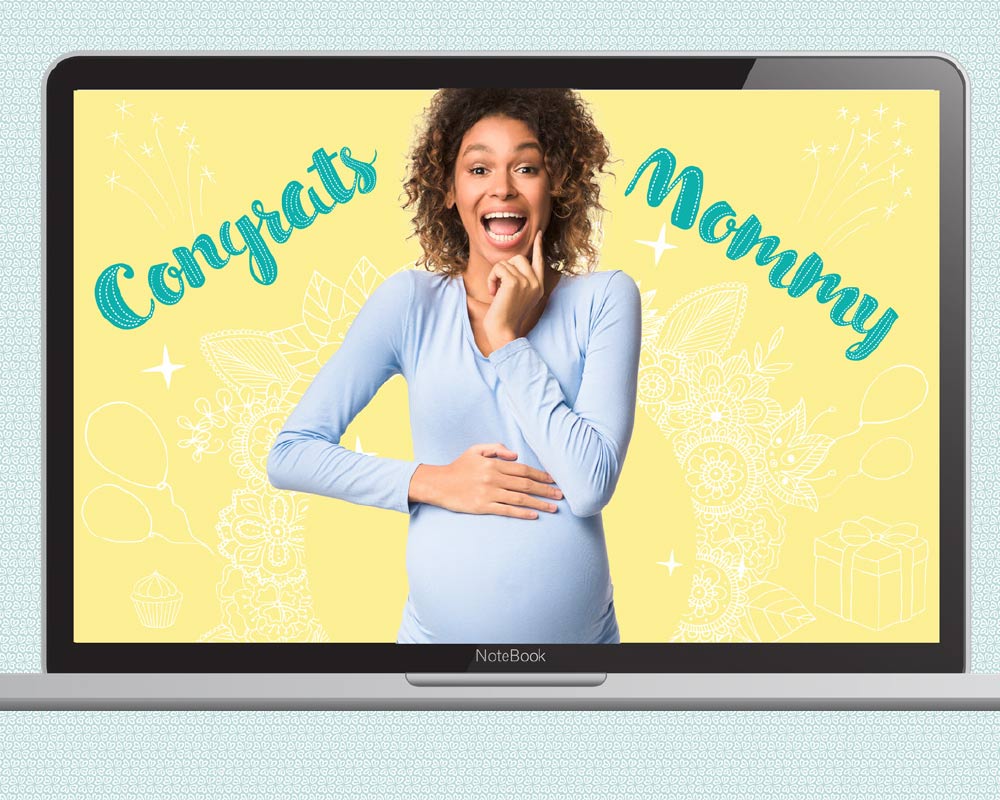 Hosting the perfect virtual baby shower
In just over 4 months, the COVID pandemic has transformed the way we work, shop and even the way we celebrate the important moments in life, such as baby showers. Tennille Aron explores what the new concept of a 'virtual baby shower' entails, and how to make it a memorable occasion for everyone.
With the implementation of social distancing practices, the long-standing tradition of showering a mom-to-be with gifts, advice and love at a baby shower has migrated online.
A virtual baby shower – what's all the fuss?
Since ancient times, women have come together to celebrate expectant mothers before the birth of their babies. This celebration, which usually involves a get-together with mom-to-be's closest friends and family, provides an opportunity for guests to not only spoil the expectant mommy, but to also show her how much support and love she has around her.
Becoming a mother can be an overwhelming experience, especially in these uncertain times. In a world where social distancing has become a reality, pregnant women can begin to feel isolated and cut off from the rest of the world. However, having a baby shower, even if it is a virtual one, is a great way to show an expectant mom that she is not alone and that she has plenty of encouragement and support from her friends and family.
It is also a great opportunity to spoil mom-to-be before the arrival of her little bundle of joy, and make sure that she has everything she needs for her and baby.
Here are a few helpful tips to plan the best virtual baby shower ever.
Location, location, location
As with planning any event, the first thing to consider is where you will be hosting the baby shower. Even when planning a virtual baby shower, there are various digital platforms that you can use to host your event. Zoom and Skype are two very popular digital video conferencing platforms, but you can also use Google Hangout or even Facebook Live to host your baby shower.
When selecting your platform, consider things like how many people you will be hosting and how long your event will be. On their free plan, Zoom allows for up to 100 people in one video call for 40 minutes. Skype allows for 50 people to be on a video call at one time for up to four hours. If you are looking to host 25 people or less, then you could try using Google Hangout.
Regardless of which virtual venue you do decide to use, ensure that that you remember to  hit the record button when the party gets started, because this is a memory you definitely want to keep for mom-to-be, as well as friends and family who couldn't attend the virtual celebration.
Let's decorate
The one benefit of planning a digital baby shower is that you don't have to blow the budget on décor. In fact, if you want to, you can skip buying décor altogether and instead create a unique virtual background to use on mom-to-be's screen.
It is always a fun idea to choose a theme for the event Here are a few of the more popular themes for baby showers:
Unicorns
Hot air balloons
Nautical theme
Dinosaurs
Space
Disney
Mermaids
If you do decide to add some décor to mom-to-be's background, there are also plenty of online party stores that deliver décor items depending on the theme you choose for the event. Alternatively, you could just buy a couple of items and drop them off at the expectant mom's home before the baby shower. A mom-to-be sash is a must!
What's a party without gifts?
A big part of any baby shower is 'showering' the expectant mom with presents for her precious new bundle of joy and watching excitedly as she rips apart the wrapping paper to discover what is inside. At many baby showers, this portion of the shower has even become a game where mom-to-be guesses who the gift is from.
Luckily, the only thing that has to change about this part of the baby shower when migrating online, is that instead of the guests bringing their gifts with them to the shower, these presents are delivered to the expectant mom beforehand.
Either arrange for guests to have their presents delivered straight to the mom-to-be's home, or you can arrange that all guests drop off their gifts at a specific house, and then they are all transported to the expectant mom's home before the shower.
Creating an online baby registry is a great idea in this scenario, as people can purchase items from the online registry that have been pre-selected by the parents-to-be and have them delivered directly to them.
Game on
The best way to make a baby shower enjoyable for both mom-to-be and her guests, is by preparing a few games to play. The good news is that there are still quite a few entertaining baby shower games that can be enjoyed even if you are all not in the same room.
Here are some fun games to play at a virtual baby shower:
Guess the size of my belly
This is a really simple and fun game for everyone attending the digital baby shower. In this game, each guest is asked to write down how big they think mom-to-be's belly is in terms of centimetres. Then mom-to-be measures the size of her belly, and the person with the correct answer, or whoever is closest, wins the game.
Put together an assortment of pictures of baby products ranging from toiletries to clothes and even equipment. Make sure that you have the correct price for each of the items on the list. Hold up an item at a time and allow guests to guess what each item costs. You can have them write down the answers on a sheet of paper. At the end of the game, the person with the most correct answers wins.
Ask guests to write down as many songs with the word 'baby' in the title within a specific time limit. The winner is the person with the most correct answers when the time is up.
Fill a large plastic baby bottle or glass jar with lots and lots of sweets. You can use Jelly Babies, Milk Bottles or even Jelly Beans. Make sure that you keep a count of how many sweets you put into the jar. Guests are asked to guess the number of sweets in the jar. The correct answer, or whoever is closest, wins the game.
This is a game that requires some prepping beforehand. Ask each guest to send you a baby picture of themselves either through email or via WhatsApp before the baby shower. Number the photographs and make a note of which photo belongs to which guest. At the baby shower, show each picture to the guests and ask them to write down the name of the person they think that picture belongs to. The person with the most correct answers wins the game.
A variation on this game is to find a range of pictures of celebrity babies and their famous parents. Guests can try to match as many celebrity babies to their parents as they can.
 Virtual gift cards from your some of your favourite stores are great ideas for prizes for the winners of the games as they can be emailed directly to them.
Virtual hugs and kisses!
Unfortunately, having a virtual baby shower means that mom-to-be can't show her appreciation to her guests attending this important celebration with thank you hugs. A lovely idea to show mom-to-be's gratitude for her guests' presence and presents is to make special and unique digital thank you notes for each of the friends and family who attended the online celebration. Canva is a fantastic and easy program to use to create these notes and distribute them digitally.
At the end of the day, a virtual baby shower is all about having fun, celebrating the new life that is about to come into the world and spoiling mom-to-be. And the good news is that this can be achieved just as easily from behind a computer screen.
Just one tip: don't forget to take some screenshots during the festivities, so that mom-to-be has some great digital memories to look back on.
Things to plan for ahead of time:
There are a few things that you need to remember to plan ahead of time to ensure that the virtual baby shower is smooth.
Dressing up is half the fun of any event, so choose a theme and get everyone to dress up accordingly by mentioning it in the invitation. Try not to make it too complicated: even just  a specific colour  for everyone to wear can make the celebration that much more special.
Although purchasing drinks and snacks are not required for a digital party, it is important to let people know that it is a good idea if they have some snacks and drinks available for themselves during the shower. There are also plenty of food delivery services that you can use to deliver some food and drinks (non-alcoholic, of course) to the mom-to-be. Having a drink to toast with is a must for all guests for this occasion.
Depending on what games you have planned for the day, you should let your guests know ahead of time to have some paper, pens and any other stationery that they might need, handy.